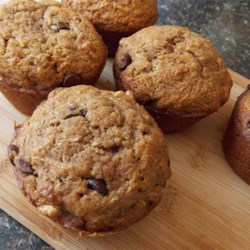 'Tis the season for zucchini, which always seems like an "all or nothin'" kind of veggie. I either have none, or way too much! :) I do whatever I can with it this time of year, and then shred and freeze the rest for baking throughout the winter - it defrosts up fine for zucchini bread (I freeze it in 1 cup amounts).
I discovered a new recipe tonight that my family loved, and I recommend, so I wanted to pass it along. The original recipe was from
ALLRECIPES.com
, and I modified it slightly.
Original recipe makes

12 muffins - I recommend doubling it!
1 cup white whole wheat flour
1/2 cups all-purpose flour (unbleached)
3/4 cup white sugar
1 teaspoon baking soda
1 teaspoon ground cinnamon
1/2 teaspoon salt
1/4 cup milk (or evaporated milk, or sweetened condensed...whatever you have)
1 tablespoon lemon juice
1 teaspoon vanilla extract
1 egg
1/2 cup canola oil
1 cup shredded zucchini
1/2 cup chocolate chips
Cook at 350 degrees for 20 mins in muffin tins. Yummy.